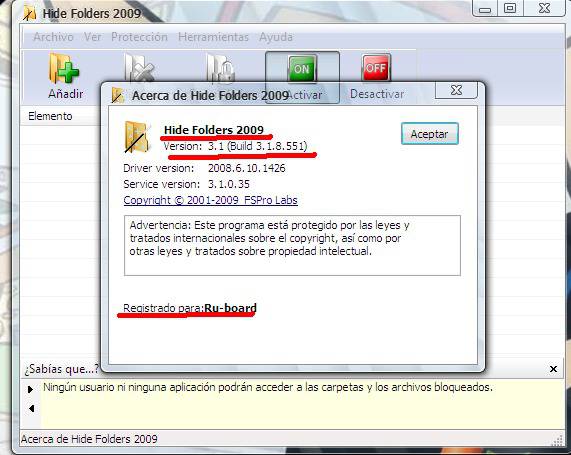 descripcion: La mayoría de las personas tiene archivos o carpetas en sus ordenadores que no quieren compartir con otros ni quieren que otros puedan tener acceso a verlos siquiera.

Hide Folders es una utilidad que esconde tus carpetas del alcance de otras personas con sistemas Windows instalados.
Necesitas sólo seleccionar la carpeta o carpetas que deseas esconder y hacer click en el botón "Ocultar" para hacerlas invisibles.
Hide Folders funciona de modo que, cuando tus carpetas son escondidas, es imposible detectar si el programa está en ejecución o no lo está.



Características: Nadie excepto tu accederá a las carpetas ocultas y/o bloqueadas. 
4 metodos de protección disponibles: Ocultar, BLoquear, Ocultar y Bloquear, Sólo Lectura. 
Soporta volumenes NTFS, FAT32 y FAT. 
Ilimitado número de carpetas y archivos pueden ser protegidos a la vez. 
Efectiva protección con contraseña maestra para todas tus carpetas. 
Nadie podrá desinstalar el programa a menos que ingrese la contraseña maestra conocida por ti. 
Hide Folders 2009 puede ser ocultado de la lista de programas más usados en Windows. 
Hide Folders 2009 puede ser ocultado de Agregar/Quitar Programas de Control Panel. 
Hide Folders 2009 will not hide your Windows, Windows System folders and Windows partition root folders - so careless using of Hide Folders 2009 would not bring the system down. 
El programa no se puede detectar desde el Administrador de Tareas. 
Soporte en Modo Seguro - Las carpetas o archivos pueden ser protegidos incluso cuando tu PC está ejecutándose en Modo Seguro. 
Hide Folders 2009 es multilenguaje, te permite usar varios estilos visuales, es fácil de usar, te permite el uso de hotkeys y mucho más.

http://rapidshare.com/files/218744508/Hide.Folders.2009.v3__crack_by_rennee.rar