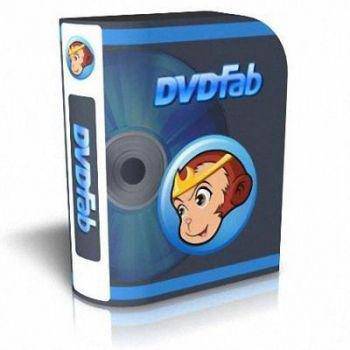 DESCRIPCIÓN
DVDFab Mobile Option convierte títulos DVD a archivos AVI/ MP4/ WMV/ MKV los cuales pueden ser reproducidos en dispositivos móviles como iPod, PSP, ZUNE, teléfono celular, etc.
DVDFab Platinum es el software mas poderoso y flexible para la copia y quemado de DVD. Con 8 modos de copia, puedes respaldar cualquier DVD a DVDR en unos pocos clics.
CARACTERÍSTICAS
Disponibles 8 modos de copia DVD Copy: Disco Completo, Película Principal, Dividir, Personalizar, División Personalizada, Clonar, Fusionar, Escribir Datos.
Disco Completo: Se copian todas las películas, menús y trailers a un DVD con solo un clic.
Película Principal: Copie la película con el audio y subtitulo especificado.
Dividir: Copie un DVD-9 en dos DVD-5 manteniendo la calidad al 100% y conservando los menús originales en ambos discos. Ideal para episodios/temporadas de series de Televisión, películas, etc.
Personalizar: ¡Personalice sus DVDs! ¿Quiere hacer un DVD con sus títulos favoritos?, ¿Qué le parece eliminar esos molestos anuncios? ¿O seleccionar un audio y subtítulos específicos? ¡No hay problema! Puede elegir sus títulos favoritos, el orden de reproducción, incluir o no los menús originales, ¡para crear un DVD con lo que usted quiera!
División Personalizada: Copie un DVD-9 en dos DVD-5, usando el modo "Personalizado". Ideal para DVDs de episodios/temporadas de series.
Clonar: Haga una copia exacta, 1:1, bit a bit de DVDs:Haga una copia perfecta de un DVD de doble capa, usando el punto de división de capas original. Copie un DVD de datos, como los DVD de PS2.
Escribir Datos: Grabe un directorio existente o una imagen ISO de un DVD a DVD, o convierta un directorio DVD en una imagen ISO.
Grabe en cualquier DVD virgen (DVD+R/RW, DVD-R/RW, DVD+R DL, DVD-R DL).
Actualizado constantemente para dar soporte a las nuevas grabadoras y discos vírgenes de DVD
Fusionar: Combine diferentes títulos de diferentes orígenes en un solo DVD:
Combine dos DVD-9 como "El Señor de Los Anillos" en un DVD-9.
Fusione temporadas de series en menos discos.
Cree su propio disco de características especiales.
BENEFICIOS
Elimine todas las protecciones anticopia del DVD, como CSS, CPPM, RC, RCE, APS, UOPs, ARccOS, RipGuard, FluxDVD, CORE X2, etc.
Actualizado constantemente para dar soporte para las nuevas protecciones anticopia de DVDs.
Comprima DVD-9 a DVD-5.
Velocidad de grabación muy rápida, alrededor de 10-20 minutos.
Copia de seguridad de discos rayados o sucios: Incluso si alguna información (IFO) no puede ser leída, usted aun puede usar los modos Película Principal o Personalizar. Recuperación del error de lectura (VOB) de DVD.
Soporta DVD NTSC y PAL.
Previsualiza películas como un reproductor de DVD real.
REQUERIMIENTOS DE SISTEMA
Windows 7/Vista/XP/2000 (32-bit/64-bit)
Pentium II 500 MHz
256 MB of RAM
10 GB of Free Hard Disk Space
A DVD-R(W) or DVD+R(W) Drive
DVDFab 8.1.0.5 Qt Final (July 04, 2011)
Why Qt?
1. We can have some advanced UI effects like skins and animations in future versions.
2. We have moved an important step to the Mac version.
New: Updated language files.
New: Some minor changes and improvements.
Fix: A crash problem at startup on Windows XP when the graphics card driver is outdated.
Fix: Profile "Set as default" feature doesn't save certain settings like bitrate.
DVD Copy:
Fix: Preview when copying works now.
Blu-ray Copy:
New: Added support for AACS bus encryption.
Fix: Protected Disc burning was broken in v8103, sorry.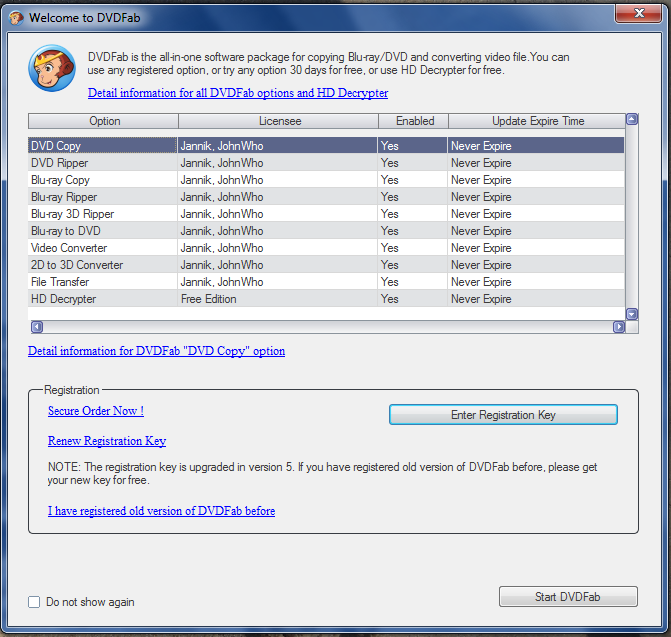 Código:
http://www.megaupload.com/?d=0RJASF7Q